---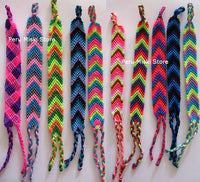 This is a lot of 50 bracelets.
The knots design is called Palm Tree.
The colors we send are assorted. 
They are aproximately 0.75 inches (2 cms) wide.
The bracelets total length is 8.5 - 9 inches (22 cms) long aprox.
Net weight 360 grs aproximately.
We will ship within 3 business days of cleared payment
If you have a question or any doubt, please contact us at store@peru-miski.com or text via WhatsApp to +51 992750549
The system will calculate the shipping fees and discounts at checkout before payment
Active discounts:
5% off when the products in your cart add > $149 until Dec 15th
Shipping:
Free shipping for orders above 3.5 kg or 7.7 lb for most countries, not all. You will see your fees at checkout before making payment.
DHL takes 3 to 5 business days, the postal service takes 3 to 4 weeks. When the package gets to your country, it has to go through customs inspection before being delivered. The time this takes varies. Contact your local DHL or National Postal Service in advance, for exact dates and any additional requirements like import taxes.
See more: Terms of Service page